In recent years, the domestic real estate market has been booming, and the amount and area of ​​purchases of houses have increased dramatically. Therefore, the demand for building home theaters has great potential. The huge market has promoted the development of television technology. TV brands on the market have laid out high-end products such as curved surfaces, ultra-thin, HDR, and laser televisions.
The data shows that since 2014, the sales volume of the flat-panel TV market has increased slightly, of which, the sales volume in 2014 was 42 million units, and the sales volume in 2015 was 44 million units. In the first half of 2016, the market sales volume was 23 million units. It will reach 48 million units. Therefore, as the core television market for building home theaters, there is a dramatic increase in the sales of domestic brands and the counterattack of foreign brands.
How to break through the Red Sea and create new profit growth points? Recently, Hisense released the world's first 100-inch DLP ultra-short focus 4K laser cinema TV at a price of RMB 69,999, a huge contrast between this price and hundreds of thousands of traditional large-screen TVs. After the release of the information, it triggered a hot debate in the industry, and Hisense Electric's stocks have therefore been strongly limited. We will talk about the playing methods of Hisense laser TV today.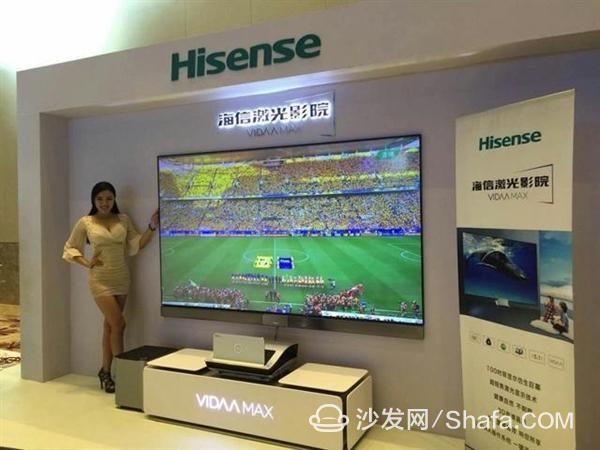 Avoiding the main battlefield, using technology breakthroughs to build core competitiveness Laser TV has been in existence for 10 years now. Hisense has been working on laser display technology since 2007. It can be described as a decade of swordsmanship. Currently, it has obtained 217 patented technologies. The products have been realized from laser television R&D, design to complete machine manufacturing. In the past, the main problem with laser televisions was the low price/performance ratio and the high cost of laser light sources, which led to high prices for laser televisions. Hisense's products have made a lot of improvements to laser televisions, and the cost has also dropped a lot, so the new products have formed a strong effect.
What are the advantages and disadvantages of laser televisions and traditional LCD TVs?
In general, Hisense laser TVs use cinema-level ultra-high definition laser projection technology, applying the same display scheme and 3D implementation as IMAX theaters, and Fresnel passive biomimetic screens. Hisense laser TV is on a large screen (80 inches to 120 inches), which is cheaper than the LCD TV (price is only 1/10 of that of a similar size LCD TV), and its power consumption is even lower (2K upgrade to 4K light utilization rate is unchanged, The consumption is about 1/3 of the similar size LCD TV, the volume is lighter (the weight of the laser TV is only 17.5 kg), and the response speed is 375 times that of the LCD TV. Compared with traditional projection equipment, Hisense's laser television has a shorter projection distance and a longer light source. It can be used in a brighter environment and is therefore more advanced than traditional projection technology.
For consumers who want to build a home theater, spending hundreds of thousands of huge amounts of money to build a home theater requires a video studio + projection + audio + screen, not only expensive, but also have to toss. For example, how can we transport home the ultra-significant-screen LCD TV weighing 200 kilograms is a headache.
Therefore, laser television is undoubtedly another new technology after LCD TVs and OLED TVs. Compared with LED and OLED, it has several advantages such as no glare on the screen, clearer picture quality, lower price, and more energy saving. In terms of policy, laser display technology is the key content of the National Outline for Medium and Long-Term Scientific and Technological Development Plans. At the same time, the national "Twelfth Five-Year Plan" for scientific and technological development plans also lists laser display as a strategic emerging industry.
The data shows that the current 32 inches to 55 inches is the main battlefield of the current television, while the 55 inches or more product sales are less than 10%, so Hisense's laser TV cut into the large screen field, avoiding the fierce Red Sea battlefield, the competition is relatively small However, the unit price is higher for the large screen market. Build the core of technology, break through the battlefield of the Red Sea and open up a new battlefield in the high-end market. This is the advantage of Hisense laser TV!
Good products must be combined with software and hardware to achieve the transformation of Internet +, this is my main research topic in the "re-innovation" book. Such as Haier's Internet refrigerators, music as the ecological mobile phone, the success of these companies to transform our greatest enlightenment is to achieve Internet +, we must first stand on the user's point of view, and then integrate the product into the Internet's ecological chain. Therefore, products must not only exert quality on quality, they must also touch "net" to achieve a combination of hardware and software, and establish their own ecological matrix in order to seek breakthroughs in product form.
Recently, Hisense established Juhao Technology Co., Ltd. The purpose of this big-name game is to build a content platform to provide internet television for its 21 million user groups and value-added services in the content industry. According to the data released by Goodlooking, the number of active users of Hisense has reached 9.43 million, and the per capita daily online time exceeds 4.8 hours. Compared with 10 million users, the scale of paid users has increased by 412 times.
Hisense will eliminate more barriers on the structure and scale for the future market layout by creating "good looking".
What does it depend on to win the market?
I think we must return to the beginning and return to human nature.
In the home theater market, the key point is to grasp the mentality of consumers. This core is "emotion": return to the family and create a "warm" atmosphere. Think about the scene where family members gather in front of a television to unite family fun. This is one of the best wishes of everyone.
In the world, only love and beauty cannot be upheld.
Guanxiong Wang, a famous observer, China's top ten media (see the list of major authority). Hosted and participated in 4 IPOs, traditional enterprise "Internet +" transformation coach. A daily in-depth article was published on WeChat, Weibo, search engines, major portals, technology blogs and other nearly 30 mainstream platforms, covering 4 million Chinese core commercial and technological people. As a writer for world-class media such as the Financial Times, Forbes, etc., opinions have been widely quoted by the media and have great influence. Details can be Baidu.
Smart TV/box information can focus on smart TV information network sofa butler (http://), China's influential TV box and smart TV website, providing information, communication, TV boxes, smart TVs, smart TV software, etc. Answering questions.
Intelligent Management System(APPDU)
APPDU intelligent power management project.Security is a set of professional intelligent power management system, which can meet the requirements of UPS power supply, AC / DC power supply and Poe power supply, and can realize environmental monitoring and control (temperature, humidity, humidity, humidity) in the computer room. The fire alarm system can realize local and remote operation through centralized control software of power supply, monitor and control power consumption in real time .It can realize the function of building energy management . and develop software interface to any back-end cloud platform at the same time. In the real sense, the intelligent management of interconnection and interworking of power supply equipment in computer room has been realized.
Features:
High efficiency
Energy saving
safety
environment protection
Application:
It Widely used in banks, offices, buildings, office buildings, garden communities, squares, factories, prisons, road traffic, gas stations, ships and other machine room heavy, power failure self-lock, can be embedded in the back-end security system
Intelligent Management System,Management System,Intelligent Blood Collection,Intelligent Management Fiber Optical
Guangdong Steady Technology Co.LTD , https://www.steadysmps.com