At the "Second LED Industry Theme Summit Forum" held on May 23, CREE's general manager Tang Guoqing gave a speech on "Let's create a new era of LED lighting together". The editor of Optoelectronics News Network did it to him. In an exclusive interview, he was very excited about the country's recent "Ten Cities and Ten Thousand Miles" plan. Its character is refreshing, and the words always make people feel that there is endless passion.
He said: "I am the general manager of CREE China market development, and the executive vice president of Shanghai Photonics Industry Association, and the director of the Semiconductor Lighting Professional Committee of China Lighting Association. Sometimes people regard me as CREE, more often everyone Think of me as a representative of the industry."
Support the localization of "Ten Cities and Ten Thousands" but at the same time emphasize internationalization
In the national "Ten Cities and Ten Thousand Miles" plan, it is explicitly required to increase the proportion of localization. The specific details are as follows: 1) In the pilot phase, in 2009, 1 million LED municipal lighting fixtures were used in 21 pilot cities, of which the localization ratio of LED devices was 60%; 2) Demonstration phase (2010~2012), Completed the construction of 50 semiconductor lighting demonstration cities throughout China, applying 2 million LED municipal lighting fixtures. The target ratio of localization of LED devices is 70%.
CREE is a US company. The localization regulations may affect CREE's business. In this regard, Tang Guoqing said: "First, CREE's single largest shareholder is Chinese, accounting for 9.6% of the shares. Chinese people have certain in the company. The right to speak, this is one of the reasons why CREE put white light packaging in Huizhou. Of course, the biggest reason is that China has a broad market. The second point is that CREE Huizhou Company paid 58 million yuan last year and employs more than 1,500 people. You said CREE Isn't the product localized?" "Ten Cities and Ten Thousands" emphasizes that there is nothing wrong with localization, but at the same time it also emphasizes globalization and internationalization. China's economic reform is a process of continuous openness. We cannot go back, he stressed.
Editor: China Lighting Network amy

2835 Double Row Strip Features
Beam angle: 120, IP33.

Sourced by high output 2835 LED with good color conformity.

99.99% gold thread, pure copper bracket coated with silver. CRI>80.

Double layer rolled copper FPC. 3M 300LSE tape attached.

CE, RoHS and UL certified.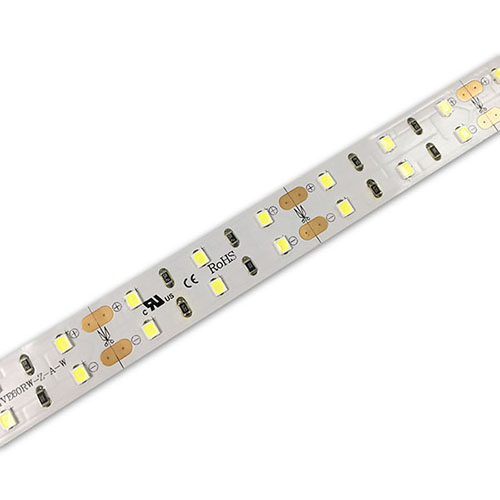 Warranty: 3 years.
Color Temperature: 2300k, 2700k, 3000k, 4000k, 6500k.
Application
City lighting, landscape lighting, commercial lighting and house contour lighting, etc

Why choose us:
LBY is a professional manufacturer specialized in developing, manufacturing and marketing of LED light for worldwide sign industry. Since 2004, we have been devoted to designing and producing more efficient and easily-installed LED products. At the same time, we also offer customized design, OEM and work instruction service. Our general target is saving total cost for customers.
The employees are proud of working with such a top LED manufacturer in sign industry. With the most knowledgeable team and technologically advanced products, we are looking forward to working with customers throughout the world.
Lingbenyang emphasizes on product quality. We took a lead in conforming to ISO 9001 Quality System and all of our products are CE, RoHS and UL certificated. We have more than 40 variety of products which won the national invention or design patent.
Lingbenyang will keep working on developing innovative and high quality LED signage modules and LED strips so as to creat maximum value to our customers.
2835 Double Row Strip
2835 Double Row Strip,Double Row 2835 Led Strip,Double Row 2835 Led Light Strip,Double Row 2835 Strip
SHENZHEN LINGBENYANG IND. CO., LTD. , http://www.lby-led.com